Our childhood was composed of cereals that are more sugary than nutritious, insanely delicious soda with questionable chemical contents, and Saturday morning cartoons. One of them would be everyone's favorite football head, Arnold Shortman, from Hey Arnold. Did any of us not like Arnold? God, it's just so impossible not to like him. He's a likeable kid with his quirks and overall kindness for others. His day to day life in the boarding house and in PS 118 is an enjoyable watch and all. But beyond that, Arnold might be one of the coolest fictional kids out there.
What is it about him that screams #lifegoals? Is it his heart of gold? His fashion forward outfit? Him living in the coolest loft bedroom that a kid can own? Let's put our pink and big, Helga Pataki bows on as we try to out-obsess her while we list down all of the things that makes Arnold worthy of a watermelon shrine in every millenial's room.
PREDICTING SPACE SAVER INTERIORS WHILE HAVING EVERYONE'S DREAM BEDROOM
(via clandestin.info)
His room was everything! It wasn't an emphasis. We're just stating cold, hard, facts. That futuristic loft that he has for a bedroom reflects his progressive attitude. Switching off our intellectual switch. Let's admit it, that room was the future!
(via fuckyeahhelgapataki)
The killer sound system, the rotating couch, remote controlled everything, and may add that skylight? It's not even a childhood bedroom dream — it's a young adult dream. Maybe the Arnold-themed alarm clock is a little bit too much for us. A little bit narcissistic there, Shortman.
HAVING THE STRONGEST AND FUNNEST SUPPORT SYSTEM

(via peteneems)
With explorers for parents, a Nazi-puncher for a grandpa, and an all around wise yet kooky grandma; Arnold has the most interesting and greatest support system out there. He grew up grounded, humble, and just straight up interesting. Narrating his roots down, we can clearly see why. He lives in a diverse boarding house with different characters and backgrounds. This is the same story with the squad he rolls with. Where he lives and came from defines him. Respect points all around!

DOING GENDERLESS FASHION BEFORE IT WAS COOL
(via imgur)
Arnold's room and style cements his forward, progressive way of thinking. He did genderless fashion before Jaden Smith can even bless us with his tweets. His layered ensemble defies gender roles and most importantly, he has deceived us by letting us believed that his long shirt was a skirt. That was exactly what it looked like.
Helga even pointed it out. But did he give a flying f—k? No he did not. He loved how he looked with his little blue cap and shirt-like skirt. That should be enough for all of us!   
HE'S UNABASHEDLY HIS OWN PERSON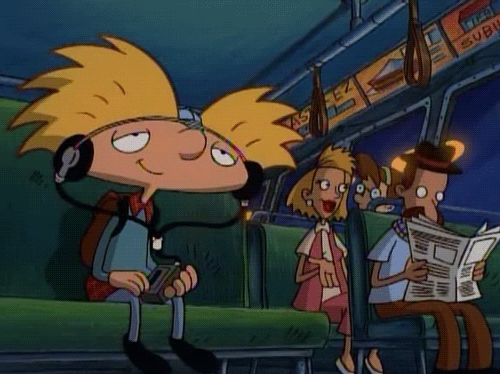 (via giphy)

With his style and overall good heart, Arnold is a true blue kid. He gets embarrassed every now and then. He's not perfect. Hell, he can't even tell that his bully is his #1 fan and admirer. But you know what? Arnold had never done anything that didn't come from a good place. His heart is just as gold as the locket Helga keeps inside her white underdress. This is what makes him admirable. This is what marks him as a true life goal for all of us.

Because honestly, out of all the violent and raunchy cartoons we use to watch when we were kids, Arnold was the good kid we respected and didn't hate. None of his goodness had any religious intentions nor did he had any malicious ones. He's no saint, but he tries to be the best version of himself that he can be. And as this year comes to a close, that Arnold attitude is the biggest #lifegoal of all.