"I honestly thought it would be a lot scarier. I thought people would be mean and critical right to my face." UnReal's Madison, GENEVIEVE BUECHNER tells us about entering Hollywood. She's a dash of awkward, is a full cup of dedication, and a full blown ray of sunshine. There lies a fine line between Genevieve and her often scene-stealer character in the Critic's Choice awarded series UnReal. But their similarities is what makes her portrayal of Madison so hard to miss. 
"Working in the film industry is crazy though.




[…] It can all seem very last minute and rushed sometimes, but that's also what makes it exciting and fun!"
Being both bright go-getters made them unforgettable on and off screen. That's why Genevieve has graced many bingeable shows on air right now; Supernatural, the 100, iZombie, and many more. Now with UnReal's new season on the way, we got a chance to not just chat with Genevieve, but to do the second installation of our PILLOW TALK.
STATUS gets UnReal with this actress on her celebrity #lifegoals, what to expect from Madison this new season, and maybe joining the circus if all else fails.

STATUS: What's the first thing that people should know when meeting you?
GENEVIEVE: Don't take my awkwardness as a bad thing, I'm just always like that. I also have a very loud laugh sometimes and I think it surprises people. Also, always tell me about your pets. I love animals and can talk about them forever.
S: Who's the actor or actress that became your life goal?
GB: I started when I was a kid, so I didn't quite understand who celebrities were or why they were famous. I just watched movies and wished I could be a part of them in some way. It probably started with Cate Blanchett and Sir Ian McKellen because of The Lord Of The Rings. Now, I just have too many people I admire.

S: Going into the Hollywood lifestyle, what were your expectations and what was the reality of that?
GB: I still don't know if I've ever gotten the full effect of the Hollywood lifestyle because I live in Canada. Working in the film industry is crazy though. Things can change in half a second. If you book something, you have to change all plans you might have had and be willing to drop everything for an audition. It can all seem very last minute and rushed sometimes, but that's also what makes it exciting and fun!
(via wistfulwatcher)
S: Do you have any hilarious, Madison-like stories when you were just starting out?
GB: Madison is a bit of a brat! On the first movie I did, I remember there was a scene where I was supposed to be wearing a flowery swim cap. Looking back on it, it was pretty adorable. But for some reason, my little nine-year-old brain decided I hated it and didn't want to wear it. I'm pretty sure I started crying.
Everyone on set was really good about it and I still have Polaroids of the wardrobe ladies wearing the swim cap to make me feel better. That was probably one of my most "Madison-like" moments. But I was nine, Madison is old enough to know better.
S: Do you have any unreal (pun intended) moments with your idols on or off set that stuck with you?
GB: Madison was such a small role in the beginning of the show so I didn't have much info on what it was going to be or who was in it. One of the first days I remember hearing Constance Zimmer and going: "Oh my god I know that voice!" That was pretty exciting.
One of the most memorable people I've worked with would have to be Robin Williams on the film The Final Cut. I was such a big fan as a kid, always will be, and I was so nervous to work with him. He was one of the most lovely humans I have ever met. He also gave me a hardcover copy of the script with my name printed on the front. I will treasure them always.
S: If you're not acting, what's an unreal career would you rather do?
GB: Be in the circus. I'm not joking. I did circus training when I was a kid and I miss it everyday. I need to get back into it, but it's very time consuming. Aerials were always my favorite.
S: What are the roles you usually choose or would usually want for yourself? Is your role in UNREAL something you would personally choose?
GB: I love playing the bad guy or the person who messes everything up. Those characters always move the stories along. They make things interesting. It's hard to have a story without an antagonist. If I have the chance to be a part of that, I'm in. I'll be the villain any day, but not in real life, I hate upsetting people in real life.
S: Playing Madison in UNREAL, how near is your personality to the character?
GB: We are vastly different, except for when she was awkward and clumsy in season one. I'm still awkward and clumsy, but Madison has let her true self out and she is much more cynical than I am. She is absolutely the kind of person who doesn't care who she hurts to get ahead. Usually while reading the scripts when Madison makes a decision I think: "NO MADISON HOW COULD YOU!"
I love to hate her. Playing someone like that is a blast. It's a good thing we are so different. I would be bummed if someone thought I was really like her.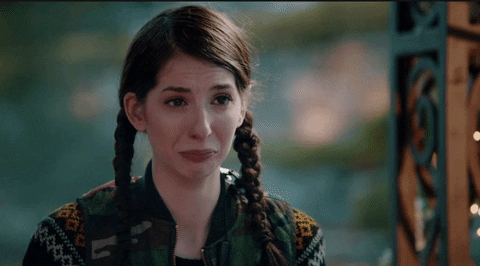 (via giphy)
S: What is it about Madison that attracted you to her as a character? 
GB: In the beginning, I really didn't know where the character was going or what their plans for her were. I just took it one episode at a time and had a great time being this little confused production assistant. I was excited when she took a darker turn. I love seeing her transformation into this manipulative person who still hasn't quite figured it out yet. She's trying so hard to mimic Quinn and Rachel — but she is nowhere near their skill level.
S: Madison is getting darker and stronger as the show progresses. What can we expect from Madison this season?
GB: This season Madison has built up much more confidence and has a fiercer approach to the whole producing world. She has a super interesting story arc this season and I'm very excited to see what people think of it. She is still a bit of an idiot, but I don't think that will ever change. She wouldn't be the same without her mess-ups. That's a huge part of what makes her so fun to watch.
"It's hard to have a story without an antagonist. If I have the chance to be a part of that, I'm in."
S: Last season ended in a dark and foreboding note, what can you tell us about what lies ahead for Everlasting?
GB: Everything changes with a suitress! All the male contestants make Everlasting feel like a new world. The suitress is a smart cookie and is completely different from everything Quinn and Rachel have had to deal with in the past. The producers are going to have to up their battle plans for her. Filming Season Three was such an amazing time, it's something I will never forget.   
S: If Everlasting was real, is it something that you would guilty binge or condemn?
GB: Honestly, I've never really enjoyed reality TV, except for Rupaul's Drag Race or maybe a cooking show because I enjoy the competition. But when it follows people's personal lives and their feelings, it confuses me a bit.
S: What can we expect from you next?
GB: At the moment, we are in the process of filming season four of UnREAL. I was also lucky enough to get to work on X-Files. I can't wait to see the episode because it was such a blast to film and very different from UnREAL and Madison. See if you can recognize me, I do not look the same.
Catch Genevieve Buechener on Lifetime's UnREAL. Re-watch the previous seasons on Lifetime's website. Stay tuned for her appearance on X-Files and many more!
IG/Twitter: @genevievebue

By: Rogin Losa
Photography by Matthew Burditt