Rupaul's Drag Race alumni Trixie Mattel and Katya Zamoldchikova are just a couple of queens that keep on giving. The Beavis and Butthead of drag had just dropped the first ever episode of their TV debut on the WOWPresents Youtube channel. And let us say that the first episode got us HOOKED! — by Rogin Warhol, gifs courtesy of VICELAND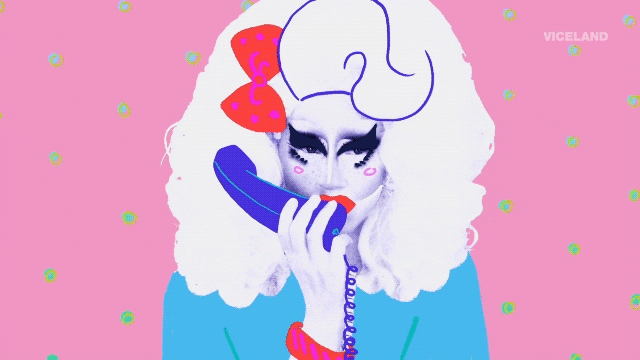 Giving their Youtube show UNHhhh the platform it truly deserves, The Trixie and Katya show proves to be the extension of their internet show that launched them further into stardom. But at the same time, they sort of want us to say goodbye to the old hag of a show and welcome the ultimate glow up they gave to it, and they did it in VICELAND nonetheless. Their first topic is all about Hooking Up.
The Nicholas Sparks' moments in our lives are no longer out in the streets, but in the screens. Tinder and Grindr has ruled most of our love lives. The two queens approached with hook up stories, fleshlights, and taking the streets out of drag. The first episode had set the tone that we would expect for the rest of the season. We're not even mad! It's just weird seeing the chit-chat followed up by something more. But it's a good kind of weird just like them.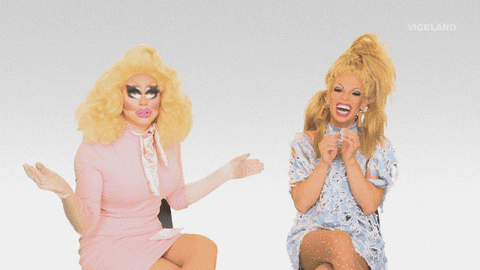 The Trixie and Katya Show is their departure from the loosey-goosey, free form flow that got us hooked in their previous Youtube show. The conversations are more contained. But that doesn't mean the crude, dark, and overall hilarious humor has been contained as well. It's more uniformed and fans of the Youtube show might need to adjust to that. It might not be everyone's cup of tea, but it sure is ours!
The green screen magic brought by their editors Chris and Ron is still everything! From the solid pop art treatment of the show's intro to the green screen inserts in between Trixie and Katya's conversations, they still prove to be a staple in what makes these two queens great. It's more polished. The animation style they're showing now cements their signature treatment for Trixie and Katya. As the two queens had evolved, so did they.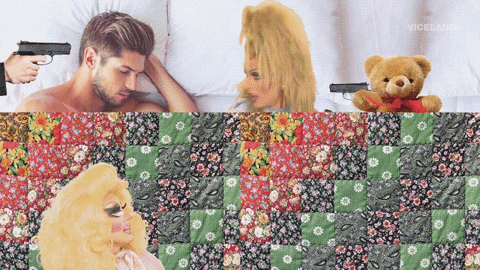 Apart from the chit-chats and the green screen, they proved once again that they can make anything hilarious. More segments have been introduced. From guessing sex toys blindfolded to going out of drag to do literally be men in the streets, their making it clear and cementing it in our minds that this isn't UNNHhh anymore. They're on VICELAND now, mama. Best accept the glow up!
Trixie and Katya are the two queens that proved from time and time again that they're more than just Rupaul's Drag Race alumni — they're their own person now. They've skyrocketed so much that their time in season 7 is just a footnote now compare to what they've accomplished. And let us tell you, this might be their biggest feat yet. We're not missing the train on this UNHhhmazing journey! Why should you?