The local independent music scene has been a hot mess the past few days due to several victims of sexual harassment and abuse coming forward with their stories. And yes, your chart-toppers were namedropped. It all started with a twitter thread by Adrienne Onday, who exposed the predatory behavior of these men in the music scene. — by Nina Joveres
I want to talk about misogyny, sexism, and predatory/manipulative behavior in the local independent music scene in my experiece.

— MARCOS HITLER DIKTADOR TUTA MARCOS HITLER DIKTADOR (@_tapsilog) November 21, 2017
This is a developing story as more and more girls are speaking up about their experiences. However, in Onday's thread, Jensen Gomez and Samuel Valenia from Jensen and the Flips, Sud Ballecer from Sud, Justin Teano from MilesExperience, and Owel Alvero and Ean Aguila were accused of sexual misconduct and predatory behavior.
It's frankly made most of us want to hurl, cry in a corner, and grab the nearest pitchfork all at the same time. However, let's take a step back from our immense and extremely valid anger, and take this as an opportunity to sit down and finally understand this toxicity that has been brewing for as long as time can remember.
Separate the Wheat from the Chaff
First things first: throw Barthes out the window. We may not always be able to separate the art from the artist, but this time, it's non-negotiable, especially if you consider the fact that their art is what put them in a position of power to do and keep doing such horrible things. We have to realize that for us to really make progress, we must first see them as human beings first, and as musicians second. We must hold them accountable for the vile things they've done, inebriated or otherwise.
Releasing defensive statements, or even vague liberal ones, are also makes you part of the problem. Your non-apologies aren't welcome. Heck, a website can do better than you. See: apologygenerator.com. Now, take a look at some of the bands' official statements:
We must demand more social responsibility from our idols because their momol and breakup songs aren't what the world needs. There will always be equally creative and talented people who know how to treat people, especially women, properly. Look harder.
It's Not About You
Has your playlist been reduced to a mere three acts? Can't stop tweeting about how you're praying your favorite band isn't problematic? There's more to local independent music than sexually manipulative men. They're not representative of the musicians in this community, both in talent and behavior. That's a huge given, but let's also not lose sight of what we should actually be talking about.
You may not have be on the public hit list, but please don't steer the discussion towards the fact that you, your band, or your prods are holy grails. It is incredibly important that this issue is finally being talked about. All this dirty laundry needs to be washed out.
Fundamental to the power dynamics of abuse is silence. That's the whole point of the #MeToo movement. Vile acts against humanity are being done in the cover of night, and speaking out is what fights against this darkness. Don't take this issue as an opportunity to feel better about yourself. We don't need people who are interested in talking over victims who have come forward with their stories. You're hindering any progress in discourse about matters of sexual abuse.
So What Now?
This isn't the film and TV industry where the likes of Weinstein and Louis CK aren't enough to topple it down. The local independent music scene has received an arguably fatal roundhouse kick to the groin. There are people genuinely worried about the fact that this demonizing of the "scene" is detrimental to its flourishing.
Breaking News: Your priorities are out of order. While we do have to acknowledge the materiality of the situation, pragmatism can't hold a candle to the pillars of human decency.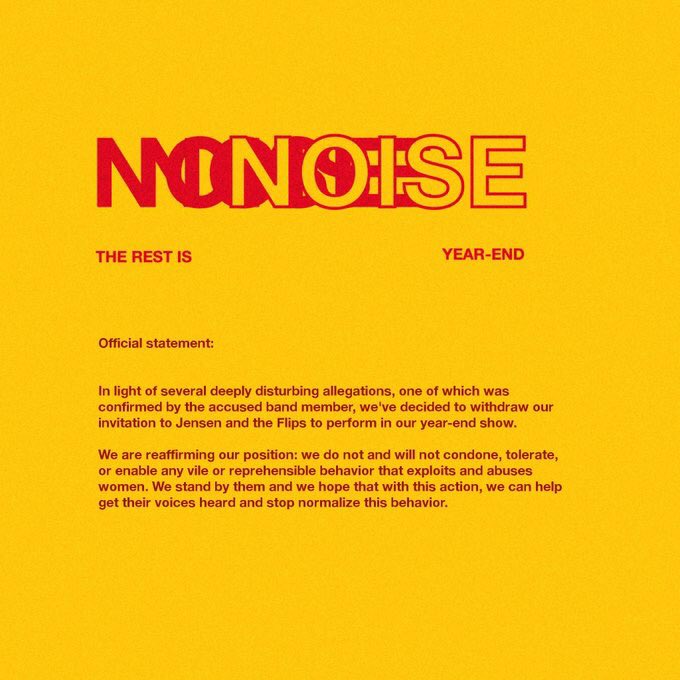 At the root of it all is our desire to forego politicizing discourse in order to maintain our culture industry. Is a community riddled with "problematic faves" one you'd really like to keep? This isn't a culling; it's a community-wide purge. If your favorite musician gets caught in that backdraft, there's nothing we can do about that. Lineups will have to change, playlists will have get chopped, and our community will have to evolve.
We can try to lay this off as our institutions gravely failing us, and that this is all a flaw in the system. Sure, we can do that. We even have band names that are inherently misogynistic. But there's a point where we have to stop blaming who raised us. Once you've been made aware of oppression, anything you do after that becomes a decision. You can stand by and be complicit to all the disgusting things being done in the dimly-lit corners of your favorite dive bars, or you can push the community forward by calling your friends out, standing by victims, and not blaming anyone but the abuser.
This has just been a big fat wakeup call.