Even though society's getting a bit more lose and cool like Mrs. George in Mean Girls, we obviously still have a long way to go. Trump is still president, minorities are still protesting for their basic rights, and people still think that life is an either/or game. Thank God for shows like Brooklyn Nine Nine for being a prime example of enlightening us about all the socio-political drama happening around us. Last week, they solved one of life's mysteries —the struggle of coming out as bisexual. More specifically, the struggle of being bisexual when people only had seen you fall for the opposite sex. That's what the bonafide bad-ass of the show Rosa Diaz illustrated for everyone on their episode last week.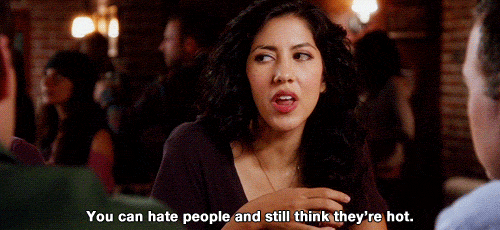 (via Buzzfeed)

Brooklyn Nine-Nine's known from not shying away from any current issues: #BlackLivesMatter, police brutality, feminism, and the like. They're a hilarious wake up call that everyone needs today. This time around, they tackled bisexuality and the fear of coming out. If Rosa was a character in any other show, she'll be cast aside as the cool, mysterious type in leather that often drops a giffable catchphrase that everyone uses in their Facebook group chats. Well even though she is giffable, she's more than just her deadpan humor and being a tough cookie. She's the bad-ass that can't do "feelings" well. But rarely do shows discuss how being this closed off has its consequences. One of them is what tends to happen when placed on the spot like coming out.

(via fanaticandfemale)
When her friend Charles Boyle asked her about who her new love interest was, she bailed on answering the question in every way possible throughout the episode: snarky remarks, literally squeezing a lemon on his eyes, anything to drop the subject. But in the latter part when they stayed in a house owned by Boyle's cousins, he walked in on her during the middle of a phone conversation with a woman who called her babe. Being placed on the spot, she had to explain and use the words— "I'm bi." Boyle understood but was confused. She only ever had straight partners and the squad barely knows anything about her. During the last scenes, she confessed why she didn't say anything. Her secrecy has a price, but it also had a reason. "I didn't want anything to change," she explained to him while drinking a cold one. And that goes out for a lot of bisexual people who's known for publicly having heterosexual partners.

(via lancehuntr)
There lies the question: "why bother?" or "do people really have to know?" Coming out isn't a cool thing. It's not a trend. It's emotional, painful, and overall exhausting. And god, if you're sexuality is has a flag dedicated to it, coming out will appear like a press con more than a self actualization. But you know what? It's also necessary. In us lies the need to be understood. With bisexual people who are passing straight, there's this option of not having to say anything or explain themselves to anyone. And if a person like Rosa who often deflect emotionally straining situations like this, their secrecy on their sexuality shouldn't be a surprise. Frankly, nobody likes the pressure of coming out. If it could be avoided, gay people would choose to not do it.
(via blog-of-a-multitude-of-fandoms)
Sometimes your sexuality is a form of activism, but sometimes it's just a preference. Though society has become more accepting, not all of the pressures of coming out lies on what everyone will think. It's also about what she said — not wanting anything to change. The act of loving or liking isn't always a form of protest. It's a part of you but it's not everything about you. That should be okay for everyone else. There's also a mentality that it's nobody's fucking business. And you know what? It is no one's business.
Getting bi is a bit hard. A lot of people aren't in that state where sexuality isn't a big deal just yet. But like Rosa, come out on your own terms. Deflect if you want to. Squeeze lemon juice on people's eyes if you have to. But whatever you do, please come out on your own terms. That goes for anyone who belongs in that rainbow flag. Rosa felt a sense of relief after she had told someone. She haven't dropped any hints of telling the squad just yet, but taking everything one step of a time with these existential crises is always the key.
Come out, do it slowly, or not at all. Whatever will take the weight of your chest. Just make sure that it is what's best for you and it's what you want. Take it from Rosa. There's nothing more bad-ass than looking after yourself.