Tyler, The Creator has put out a lot of new stuff this year—he dropped his new album IGOR and a shoe line (that has well expanded onto clothes as of recent) to go with it called Golf Le Fleur. And now, the alternative hip-hop artist known for his "phases" that he seems to transition in and out to, makes his next unpredictable move by announcing an unexpected collaborator—American artisan ice cream company, Jeni's Splendid to create his own ice cream flavor as a part of the GOLF le FLEUR line.
The new flavor is called Snowflake and as with everything Tyler, it's just as surprising as you would expect from the idiosyncratic singer. Snowflake is comprised of spearmint and white chocolate ice cream as the base flavors with swirls of peppermint, white chocolate flakes, and sea salt to add just a dash of crunch and texture and according to Tyler it's meant to be a "playdate in your mouth".
He explains that the inspiration for Snowflake came from frustration to find all the tastes and textures he wants balanced in one ice cream flavor. He says, "As much as I love white chocolate chip cookies, I can't get over the fact that someone made the universal rule that they always have to come with those useless macadamia nuts. For as long as I can remember, mint ice cream seemed to always come with every chocolate chip but white. I finally got the two away from their clingy friends and set up a playdate for my mouth."
With much excitement, he shared this idea with the world on his Twitter saying:
i made an ice cream!

— Tyler, The Creator (@tylerthecreator) July 1, 2019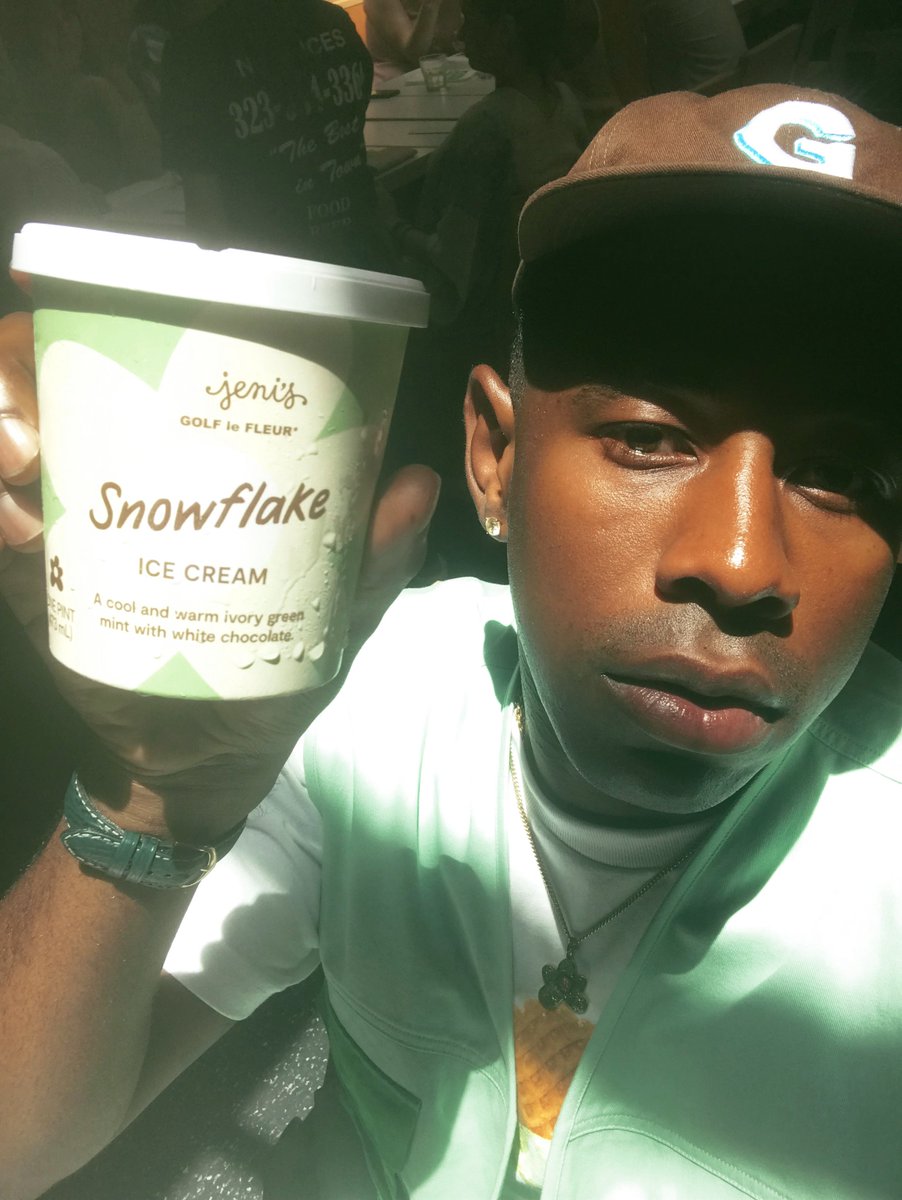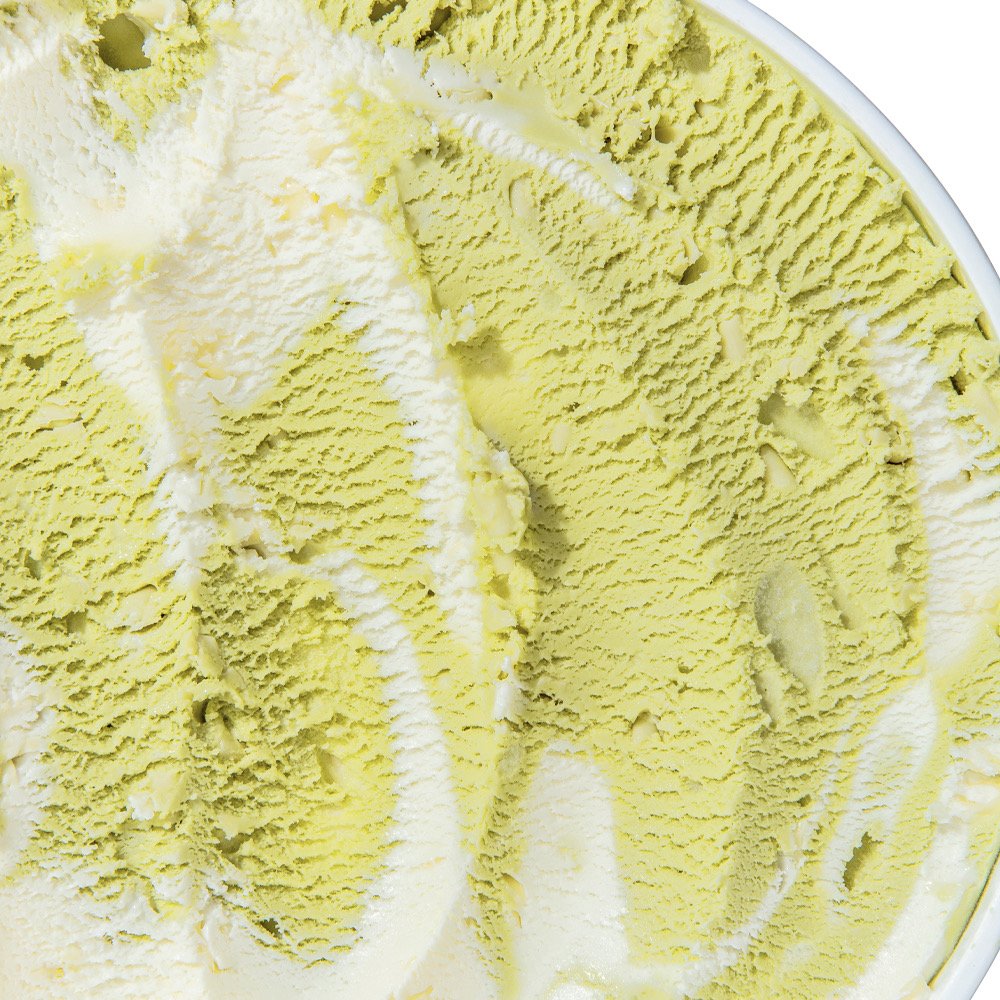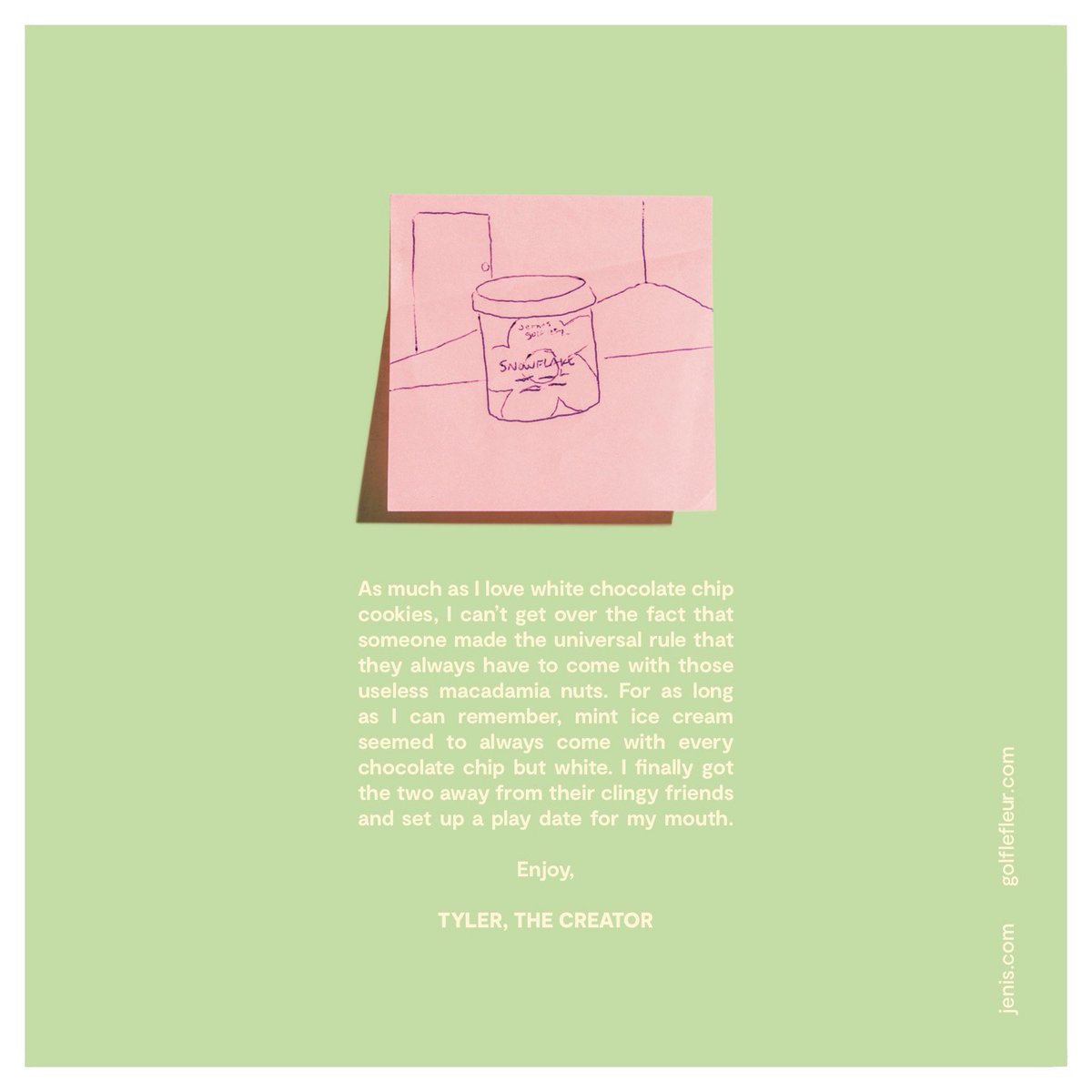 And fans seem to be as excited for the drop of the unusual "merch".
🗣YOU'RE DOING AMAZING HOMIE

— SCOTTIE 🦋 (@eyeofscottie) July 1, 2019
am I about to buy a $40 ice cream? yes.

— lean ¨̮ (@Ail33n__) July 2, 2019
open a whole golf ice cream stand

— jayda (@retroeds) July 1, 2019
Here's a first taste of what to expect:
You can cop Snowflake on July 8 online at golflefleur.com and jenis.com and is available by pint and scoop at the Golf Wang flagship store on Fairfax and any Jeni's Splendid Ice Cream branch.
You can also get a special deal on July 6 for a collaborative pack including Snowflake, a Snowflake by GOLF WANG shirt and two pints of Tyler's favorite flavors from Jeni's.
Written by Mae Monje